Anyone who reads this blog regularly knows I've been a die-hard Hillary Clinton supporter since day one. This was supposed to be her year and I believed. So last night was very emotional for me, but the story of how I got to the floor for her speech is nearly as good as her speech.
I scored a floor credential from Marti Abernathey. She is an Obama delegate and was not interested in seeing the speech. She knew I was and in the interest of unity and friendship, she gave me her credential for the night – but that left a good friend who is also a Hillary supporter (whom I won't name, but most Indiana folks will know) without a floor pass.
I was determined to get her onto the floor and the comedy of errors that ensued almost cost me seeing the speech. We tried to find our friend a floor pass, but it just wasn't panning out. So, my friend and real Indiana Clinton delegate Lori, and I cooked up a scheme to take Lori to the floor and then I would take Lori's pass back out to our friend and bring her back with me. It was a great plan, but the execution was less than flawless.
Lori and I made it to the floor easily, scored 3 seats in the Indiana delegation area, and all was going great. (We even met Donna Brazille on our way through.) We swapped credentials and I headed back out to fetch our friend. Due to security closings, I had to take the long way around to meet back up with her, so it took me longer than I expected.
On our way back around, we ran into the Delegates for Peace and stopped to speak with them and take their materials. Laura Flanders was there taking pictures and I recognized her immediately. We'd never met, but the consulting company Bil and I own, Bilerico Media, contracted with Laura to do her business card design and printing. It was really cool meeting Laura in person.
When we returned to our entrance, it had been closed – Hillary Clinton was entering the arena from that direction. We turned around and headed back to the entrance near the CNN area, which is all the way across the arena from the Indiana delegation.
Just as we got to the rope line, they closed the floor. We were, literally, the first people they stopped from entering. I was incensed. At first, we couldn't get a clear answer as to what was going on. They told us that "leadership" was on the floor and therefore Secret Service had closed it temporarily. We knew this was BS because leadership is ALWAYS on the damned floor.
In actuality, it was the Fire Marshall who had shut down the entire arena due to overcrowding. There was unbelievable interest in Clinton's speech.
So we stood at the front of the line as more and more people gathered trying to get in. Some were successful claiming they had interviews with CNN, or that they were with so-and-so's staff. It really started pissing people off.
Some jerks started heckling the guards and Secret Service (not the best of ideas) and at one point the action hit a fever-pitch that nearly erupted into a riot. About 15 people rushed the line and broke through and made it onto the floor. Some of them were caught by Secret Service, but others made it. Suddenly there were a LOT more Secret Service and police.
We watched as speech after speech went by and the clock ticked closer and closer to 8:30, which was Hillary's scheduled speaking time. We were told that it may be possible to get in on the higher floors, but we weren't going to give up our chance to be on the floor until there was no hope.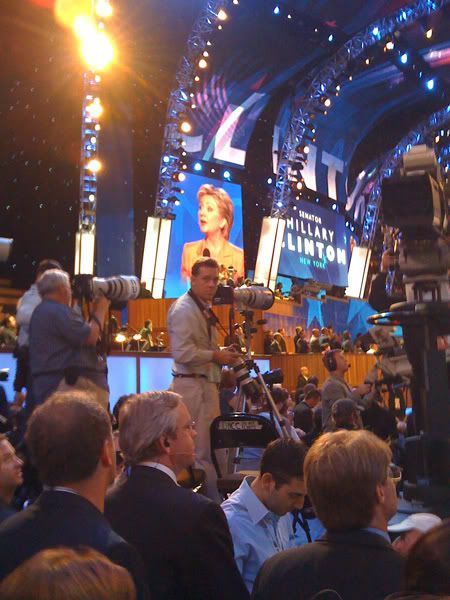 Just 5 minutes before Chelsea walked on stage to introduce her mother, they announced that voting delegates would be allowed through. Well, it just so happens we both had delegate passes and we made it in.
But our troubles didn't end. We were, of course, half-way across the arena from where we needed to be, so we started heading toward the Indiana sign. It was standing room only on the floor and the aisles were so full that passage was impossible.
Then the Fire Marshall came through. When we saw him, we asked if we could tag along behind him and he said sure. People were moving for him, so we made it part-way around.
We got stuck behind the New York delegation, who had to be the rudest goddamned people on the planet.
One asshole kept kicking me in the back of my knees and nearly caused me to fall. My friend is very short, so she was stuck between a bunch of tall people and had to watch the first part of the speech on a monitor opposite the stage.
When no one would move to let the Fire Marshall continue through, he ordered the Secret Service to clear the aisles – so we got ran out off the floor in the chaos.
We hustled up the stairs and out into the concourse and started walking closer to the Indiana delegation. When we got to the entrance, the nice ladies manning that entrance let us back in and we were able to join the Indiana delegation for the last part of the speech.
Hillary was amazing, gracious and electric. She hit every note and said all the right things. It was likely the best speech she's ever delivered. I wept and so did most everyone around us.
I came here to see that speech from the floor and I did. I was even able to sneak in a friend, who probably deserved to be there more than half the people there.
It was impossible to Twitter from the backstage area where we were stuck for 45 minutes waiting to get back in. The reception was terrible, my battery nearly drained and the crowd wasn't cooperating, so I apologize for the abrupt end to updates last night.
By the time I got out, my phone battery was at 10% and I still had to track down Bil. He went to the HRC Rock to Win event, which he'll cover in-depth, but I was able to make it to the venue for part of the show.
You see, I was really torn last night. I love Cyndi Lauper. Since I was a child, I've wanted to see her on stage, but the HRC event was at the same time as the Clinton speech. I'm sorry Cyndi, but I went through way too much to get here to miss Hillary's speech, so I chose the convention.
Here's what is truly amazing – I made it just as she started her set. I joined Bil in the VIP seating courtesy of Joe Solmonese and his partner Jed Hastings (a truly extraordinary guy, I might add.) I watched her entire set from the HRC box seats and it was just overwhelming for me.
You see, I ran (seriously) the nearly 3 miles to the venue (though I did stop along the way and buy a Hillary t-shirt.) Running in the Mile-High City when you're asthmatic and out of shape isn't a good idea, but I made it.
What a night. I got to see two special women in my life give two amazing performances (one political, one musical) and I couldn't have been happier. I will remember this night for the rest of my life. It was, truly, the night of my life.
For daily queer commentary and gobs and gobs of DNCC coverage, visit The Bilerico Project. This post was by Jerame Davis.